About a month ago
Experience Days
contacted me to very kindly offer me a spa day experience. Having spent some time looking into various spa days and treatments I had been under the impression that I would need to leave London for a proper relaxing spa experience so imagine my delight when I spotted the
Marriott Pamper Day for Two at the beautiful County Hall
hotel, just a stones throw away from Waterloo station.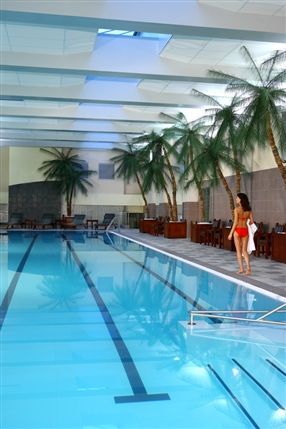 Lucy
and I met at Waterloo station at midday for the short walk to the hotel. Once we'd navigated our way through Ascot race-goers and the general hustle and bustle of Waterloo station I couldn't wait to get into the spa and unwind.
After a stressful few months a day of pampering was exactly what I needed, Lucy and I were able to choose a 30 minute treatment each and full use of the spa facilities for as long as we wished to stay. With a fully equipped gym, a full length swimming pool, sauna and steam room in addition to numerous treatment rooms and extensive changing and shower areas the spa at County Hall Marriott is deceptively spacious.
We were given fresh robes and slippers when we arrived and led to the relaxation area where we filled out some generic health and safety questionnaires and waited for our treatments to begin. Water and towels were in plentiful supply and the spa was clean and well presented throughout.
I opted for a 30 minute back, neck and shoulder massage. My therapist used one of my favourite Decleor products, the
Aromaessence Relaxing Massage Balm.
When you warm the balm between your hands it breaks down into essential oils which nourish the skin. When I'm stressed I hold tension in my shoulders and across my collarbone so I like a medium-pressure massage, enough to work out the knots and tension but enough to still relax me.
Lucy went from a Decleor facial and her skin looked absolutely amazing afterwards! We were so relaxed after our treatments that instead of talking through the steps we opted to spend some time in the pool instead, I'm sure Lucy will blog about her treatment though so I'll be sure to link it when she does.
After swimming a few lengths of the pool we opted for a steam room and a sauna. I hadn't been in a steam room before and initially found the heat quite overpowering but I was amazed at how quickly my body adapted to the temperature and in the end I found it quite a relaxing and enjoyable experience and definitely something I would try again. The steam room also soothed some of my fears regarding my reluctance to try Bikram yoga as I think I could now cope with the heat.
After a relaxing few hours we decided to head out for lunch. The staff at the spa couldn't have been friendlier and I had a great few hours, the perfect way to spend a much needed day off work!
If you're looking for a day spa in London then I cannot recommend County Hall Marriott enough, despite its central location (it's at the end of Westminster Bridge!) you feel completely away from the hustle and bustle of city life.
I'll definitely be using the
Experience Days
website again in the future, their Experiences are excellent priced and their service was brilliant.
Vicky x